San Francisco Professional Events List
Women Who Hack - SF Employer Ticket 5/25
---
Date
May 25, 2017 - 07:00 PM
Location
San Francisco,
San Francisco,
CA ,
US,
ZIP: 94105
Phone:

(Not an employer? Our events are invite-only but you can apply here)
Women Who Hack is an invite-only recruiting event exclusively for women in tech. We've handpicked some of the top tech talent from the community to this event. All attendees are qualified, screened, and includes some of the best developers, designers, and PMs.
MEET TOP DEVELOPERS, DESIGNERS, AND PRODUCT MANAGERS
Our events are organized to kick off with diversity talks followed by 5-minute rapid interviews to keep things engaging and fun. It ensures you can meet the most candidates.
We believe more diverse talent creates better teams and companies that are capable of outperforming and we invite you to join us in helping build out that vision.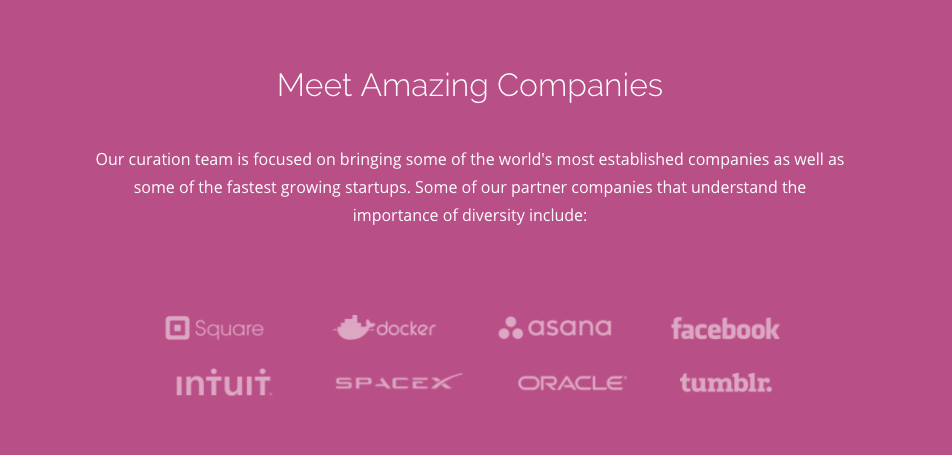 WHY ATTEND?
- Build a more diverse team without sacrificing quality.
- Get in front of hand-picked female technical talent and engage with the female community.
- Showcase your company's brand, technologies, and diversity to let the community know you're hiring and support women in tech.
- After the event, we'll also provide you a list of registrations (~100) so you can scout and reach out after the event.

FAQ
Q: What should I bring?
A: We recommend bringing an iPad or laptop to show off your company. You're also welcome to bring banners, other visuals, and swag.
Q: Can I bring multiple people?
A: Absolutely, but you will need to buy an additional ticket for each person. We highly recommend having multiple people to be able to work the room.
Q: How do you ensure quality?
Q: To ensure quality, our events are invite-only for developers so almost everyone has a solid work history or background. Only developers, designers, and PM's are invited.
Q: Do you collect a commission?
A: No, we never take a fee outside of the ticket price.



Ticket Information
TICKET TYPE
REMAINING
SALES END
PRICE
Host Sponsor
The host company must provide the space, food and beverage for approximately 70 people. We also require table/desk space for at least 20 companies, and 50 chairs.
Sold Out
May 1, 2017
$500.00
Employer Ticket (Early Bird)
Each ticket covers one person. If you'd like to bring multiple people, please purchase additional tickets.
Sold Out
May 1, 2017
$575.00
General Employer Ticket
Each ticket covers one person. If you'd like to bring multiple people, please purchase additional tickets.
5 Tickets
May 25, 2017
$675.00
Silver Sponsor (Includes 3 employer tickets)
-Labeled as an additional sponsor on our Eventbrite pages and to our developer email blast before the event as well as print materials. -5 minutes at the beginning of the event to say a few words about your company and hiring needs before the speed dating session -Includes 3 employer tickets to the event
2 Tickets
May 25, 2017
$1,695.00
Gold Sponsor (Includes 6 employer tickets)
-Includes extra table for swag, separated from speed dating line. -5 minutes at the beginning of the event to say a few words about your company and hiring needs before the speed dating session -Labeled as an additional sponsor on our Eventbrite pages and to our developer email blast before the event as well as print materials. -Includes 6 employer tickets to the event.
1 Ticket
May 25, 2017
$1,995.00
Keywords: fun, community , design , Designer, food , Fun , history , history, performing , purchas
---
---
---
Comments
---
---
Newsletters
VIP Life Time Subscription to our Newsletters!

$399.99