San Francisco Professional Events List
Enzymes in Drug Discovery Summit (gtc)
---
Date
Feb 22, 2018 - 08:00 AM - Feb 23, 05:00 PM
Organizer
New York Media Technologies LLC in association with GTCbio
Location
Catamaran Resort3999 Mission BlvdSan Diego, CA 92109United States,
San Diego,
CA ,
US,
ZIP: 92109
Phone: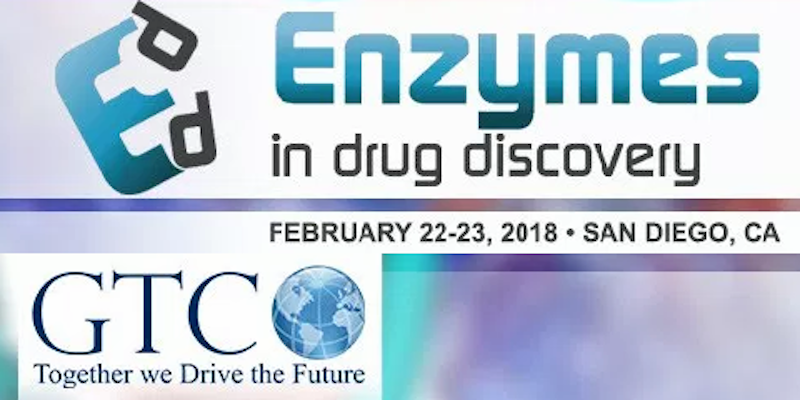 Description
GTCbio conferences aim to facilitate transformational platforms that would have a significant impact on scientific research, drug development and healthcare. Identifying and validating new targets is a critical starting point and often times a daunting inflection point in drug development. While there is continuous innovation and invention of new assays and screening technologies, it is important to understand how these technologies will help with new and existing targets. Protein Kinases have long been an important target in several diseases and we will discuss new developments in this area at our 2018 Enzymes in Drug Discovery Summit. We will also focus on advances in Ubiquitin and Protease targeted therapies.
Please join us to be part of an exciting platform at the Enzymes in Drug Discovery Summit, which will take place February 22-23, 2018 in San Diego, CA.
This summit will feature the following four targeted areas:
Protein Kinases in Drug Discovery
Novel Approaches, Tools and Technologies in Kinase Drug Discovery
Kinome Selectivity & Clinical Translation
Ubiquitin Research & Drug Discovery
Novel Drug Targets in the Ubiquitin System
Advances in Ubiquitin-like Modifications
Epigenetic Enzymes in Drug Discovery
Epigenetic Modification &Transcriptional Regulation
Novel Therapeutic Targets &Translational Studies
Protease Inhibitors in Drug Discovery
Chemistry and Drug Design of Protease Inhibitors
Protease Inhibitors in Translational Research
In addition to scientific presentations, dedicated networking sessions will allow you to connect and form new relationships with colleagues from both the private and public sector.
AGENDA
Day 1 – Thursday, February 22, 2018
Registration and Breakfast
Opening Keynote Session – Historical Perspective and State of the Science/Industry
Morning Networking Break
Two Parallel Conferences – click the conference title for a detailed agenda
Protein Kinases Ubiquitin Research
Novel Approaches, Tools and Technologies in Kinase Drug Discovery Novel Drug Targets in the Ubiquitin System
Sponsored Lunch Workshop
Kinome Selectivity and Clinical Tranlsation Advances in Ubiquitin-like Modifications
Afternoon Networking Break
Round Table Discussions
Sponsored Reception and Poster Session
Day 2 – Friday, February 23, 2018
Breakfast with Mentors from Academia and Industry
Two Parallel Conferences – click the conference title for a detailed agenda
Epigenetic Enzymes Protease Inhibitors
Epigenetic Modification and Transcriptional Regulation Chemistry and Drug Design or Protease Inhibitors
Morning Networking Break
Novel Therapeutic Targets and Translational Studies Protease Inhibitors in Translational Research
Lunch provided by GTCbio
Award Ceremony and Closing Keynote Session – Predictions for the Future
Conference Closes
Matthew Bogyo
Professor, Department of Pathology
Stanford University
Jack Taunton
Professor, Cellular and Molecular Pharmacology, Pharmaceutical Chemistry
University of California, San Francisco
Protein Kinases in Drug Discovery
DISTINGUISHED SPEAKERS
Lars Neumann
Assays, Biophysics & Screening
Proteros Biostructures
Gennady Verkhivker
Professor, Computational Biosciences & Translational Medicine
Schmid College of Science & Technology, Chapman University
Ubiquitin Research and Drug Discovery
DISTINGUISHED SPEAKERS
Yuan Chen
Professor of Molecular Medicine
Beckman Research Institute of the City of Hope
David Hewings
Postdoctoral Research Fellow
Genentech
Matthew Petroski
Associate Professor
Sanford-Burnham Medical Research Institute
Ryan Potts
Associate Member, Cell & Molecular Biology Department
St. Jude Children's Research Hospital
Steven I. Reed
Professor, Cell and Molecular Biology
The Scripps Research Institute
Domagoj Vucic
Principal Scientist, Early Discovery Biochemistry
Genentech
Epigenetic Enzymes in Drug Discovery
DISTINGUISHED SPEAKERS
Haiching Ma
Chief Science Officer
Reaction Biology
Protease Inhibitors in Drug Discovery
DISTINGUISHED SPEAKERS
Julio A. Camarero
Professor, Pharmacology and Pharmaceutical Sciences
University of Southern California School of Pharmacy
Doug Johnson
Research Fellow, Chemical Biology
Pfizer
Maurizio Pellecchia
Professor of Biomedical Sciences
University of California, Riverside
Steven Wagner
Associate Professor, Neuroscience
University of California San Diego
Please contact the event manager Marilyn below for the following:
- Discounts for registering 5 or more participants.
- If you company requires a price quotation.
Event Manager Contact: marilyn.b.turner(at)nyeventslist.com
You can also contact us if you require a visa invitation letter, after ticket purchase.
We can also provide a certificate of completion for this event if required.

NO REFUNDS ALLOWED ON REGISTRATIONS
-----------------------------------------------------------------
This Event Listing is Promoted by
New York Media Technologies LLC in association
with GTCbio
http://www.NyEventsList.com
http://www.BostonEventsList.com
http://www.SFBayEventsList.com
-----------------------------------------------------------------
MYL170816CEV MAR170926UPT MYL171025UPD CHA171109UPT
Keywords: fun, biology , Clinical , conference , design , development , Fun , Health , HealthCare , identifyin
---
---
---
Comments
---
---
Newsletters
VIP Life Time Subscription to our Newsletters!

$399.99