San Francisco Professional Events List
AWE USA 2017
---
Date
May 31, 2017 - 09:00 AM - Jun 02, 05:00 PM
Organizer
AugmentedReality.org
Venue
Santa Clara Convention Center
Location
5001, Great America Pkwy
Santa Clara,
CA,
USA,
ZIP: 95054
Phone:

Early Bird ticket sale starts today!
Get an All Access Pass for just $545 (regularly $895).
AWE is back for its 8th year in California!
AWE (Augmented World Expo) is the world's largest conference and expo dedicated to AR (Augmented Reality) and VR (Virtual Reality).
The event takes place in Santa Clara, California bringing together a mix of CEOs, CTOs, designers, developers, creative agencies, futurists, analysts, investors, and top press in a fantastic opportunity to learn, inspire, partner, and experience first hand the most exciting industry of our times.
AR and VR are bringing superpowers to the people and this year we are on a mission to highlight how to use these Superpowers to Change the World. This year's conference and expo will showcase speakers, startups and organizations who are using AR & VR to drive economic growth, encourage empathy and collaboration, democratize healthcare and education, and promote sustainability in the world.
AWE by the Numbers
8th year in the USA
3-day conference + 2-day expo
5,000 attendees
200 speakers
6 speaker tracks
200 exhibitors
Over 100,000 sq. ft. expo
Why Attend
Tech Enthusiasts - experience the latest innovations in AR/VR and hear from thought leaders, founders and executives using this tech to change the world

Startups - meet with investors, strategic partners and potential clients and get on the radar of top press

Corporations - find new AR/VR software and hardware to help further your business by increasing productivity, efficiency and safety

Investors - identify and meet with startups solving real problems in AR/VR and network with fellow investors interested in investing in this emerging space

Developers & Designers - learn how to develop and design for the latest AR/VR platforms through our workshops and hands-on demos with the latest devices and network directly with companies

Press/Analysts - get access to launch announcements, go hands-on with the latest in AR and VR and walk the floor to see the trends emerging in this next wave of computing
Our AWEsome Program
AWE USA 2017 features three full days of on-stage content including our keynote stage, developer workshops and tracks for investors, buyers, designers and tech enthusiasts.
Our stage tracks include:
Inspire: our main stage keynote talks by inspiring thought leaders who are exploring how AR and VR are bringing Superpowers to Change the World

Design: lectures and discussion on the new user interfaces and design thinking unique to AR & VR

Develop: developer workshops on the latest hardware, tools and SDKs to develop for AR/VR platforms

Work: use cases and discussions on the impact of AR and VR on the enterprise

Life: conversations and presentations on how AR and VR is changing education, healthcare, travel and tourism, news and media and more

Startup Pitches: pitches from innovative startups creating solutions in AR/VR

NEW this year:
Augmented Reality - Principles and Practice Workshop, May 31, 2017:
This tutorial will provide a detailed introduction to Augmented Reality (AR). AR is a key user-interface technology for personalized, situated information delivery, navigation, on-demand instruction and games. The widespread availability and rapid evolution of smartphones and new devices such as Hololens enables software-only solutions for AR, where it was previously necessary to assemble custom hardware solutions. However, ergonomic and technical limitations of existing devices make this a challenging endeavor. In particular, it is necessary to design novel efficient real-time computer vision and computer graphics algorithms, and create new lightweight forms of interaction with the environment through small form-factor devices. This tutorial will present selected technical achievements in this field and highlight some examples of successful application prototypes.
Full Workshop Description
The full agenda for AWE USA 2017 will be announced soon. Sign up to our newsletter be notified. Check out the AWE USA 2016 keynote talks on our YouTube channel.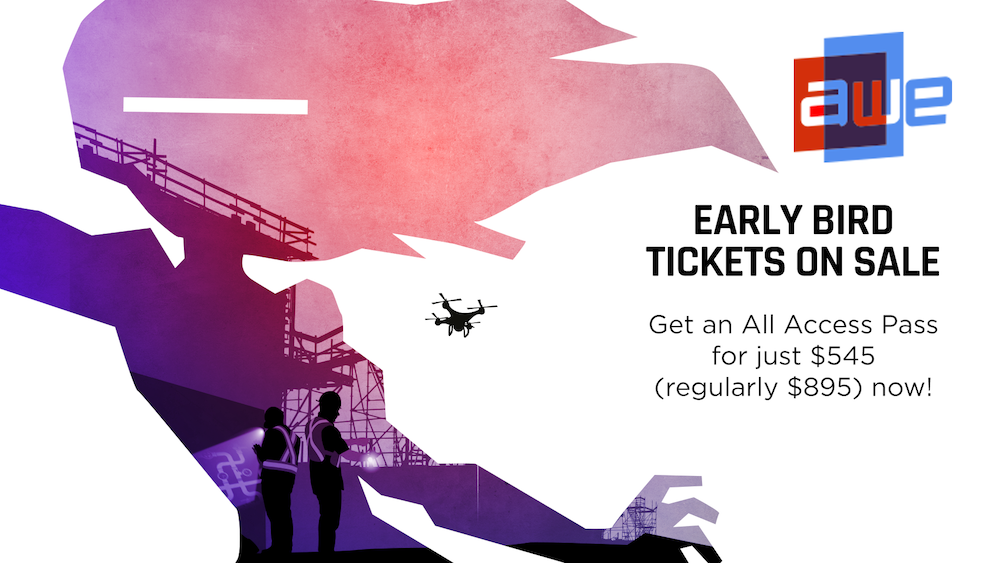 The AWE Expo
AWE USA 2017 features over 100,000 square feet of exhibitor space in the Santa Clara Convention Centre.
This year's expo floor will showcase:
Consumer Pavilion - featuring AR/VR solutions in branding, marketing, social, travel & sports and more

Enterprise Pavilion - featuring AR/VR solutions in automotive, oil & gas, construction, aerospace and more

Interaction Pavilion - featuring eye-tracking, controllers, haptics and other methods to interact in this new wave of computing

Tools Pavilion - featuring 3D capture tools, SDKs, computer vision platforms and other companies equipping developers and designers with the tools they need to create in AR/VR

Startup Alley - featuring startups in AR/VR
Want to join us on the showroom floor? Email [email protected] or head to our website for more details.
Follow AWE on Twitter @ARealityEvent or Facebook to keep up with the latest in AR & VR.
AWE Refund Policy
AWE upholds a 30-day refund policy from the date the ticket was purchased.*

AWE honors one discount code per ticket. We apologize that we are unable to (re)apply additional discount codes to previously purchased tickets.

No refunds within 30 days (April 30) of the event start date, May 31, 2017

Please note: a $25.00 processing fee will be withheld for all cancellations.


Ticket Transfers:

Tickets can only be transferred to another ticket holder until May 22, which is 7 business days prior to the event.

Have questions, wish to volunteer or speak, exhibit or sponsor at AWE USA 2017, contact us at [email protected].
Ticket Information
TICKET TYPE
SALES END
PRICE
Early Bird: All Access Pass
From now until April 5th receive $350 off the regular 3-day all access pass standard admission price of $895.00. Your ticket gives you full access to all areas of the conference and expo for all three days (May 31-June 2, 2017) including keynotes, breakout sessions, exhibit halls and the Auggie Awards Ceremony.
Apr 5, 2017
$545.00
All Access Pass
See it all with the AWE USA 2017 All Access pass. Your ticket gives you full access to all areas of the conference and expo for all three days (May 31-June 2, 2017) including keynotes, breakout sessions, exhibit halls and the Auggie Awards Ceremony.
Jun 3, 2017
$895.00
Early Bird: Corporate All Access Pass + Marketplace Networking
Get full access to the entire event PLUS speed networking, a reception with supplier and innovation partners and the Job Fair. Buy this ticket now before it goes up to the regular price of $1200.00 after April 5th. Your ticket gives you full access to all areas of the conference and expo for all three days (May 31-June 2, 2017) including keynotes, breakout sessions, exhibit halls, the AWE Reception and the Auggie Awards Ceremony.
Apr 5, 2017
$1,000.00
Early Bird: Investor All Access Pass + Investor Event
Get full access to the entire event PLUS exclusive access to our Investor event, hear startup pitches, speed networking with some brilliant startups, and analyst reports. Buy this ticket now before it goes up to our regular price of $1200.00 after April 5th. Your ticket gives you full access to all areas of the conference and expo for all three days (May 31-June 2, 2017) including keynotes, breakout sessions, exhibit halls, the AWE Reception and the Auggie Awards Ceremony.
Apr 5, 2017
$1,000.00
Startup: All Access Pass + Startup Table
Get full access to the entire event PLUS a round table display space in the startup pavilion. Your ticket gives you full access to all areas of the conference and expo for all three days (May 31-June 2, 2017) including keynotes, breakout sessions, exhibit halls, the AWE Reception and the Auggie Awards Ceremony. Also includes opportunity to pitch company on stage and speed networking with investors. StartUps MUST meet the following eligibility criteria to purchase (subject to verification): *Startup is under 20 employees AND *Startup was founded after 2012
Jun 2, 2017
$800.00
Discounted Group of 5+ - All Access Pass ($395 per registrant)
Save money when you buy your tickets in groups of 5 or more. Your ticket gives you full access to all areas of the conference and expo for all three days (May 31-June 2, 2017) including keynotes, breakout sessions, exhibit halls and the Auggie Awards Ceremony.
Jun 2, 2017
$395.00
Keywords: fun, access , announcement, arts, Book , business , conference , design , Designer, Eatin
---
---
---
Comments
---
---
Newsletters
VIP Life Time Subscription to our Newsletters!

$399.99