San Francisco Professional Events List
Artificial Intelligence for Health - AI4Health 2018
---
Date
Jan 19, 2018 - 09:00 AM
Location
Vila Galé Santa Cruz Rua São Fernando, 5 9100-173 Santa Cruz Portugal,
Santa Cruz,
Portugal,
US,
ZIP: 5 9100-173
Phone:

DESCRIPTION
Artificial Intelligence for Health - AI4Health2018
19 - 21 January, 2018 - Funchal, Madeira, Portugal

In conjunction with the 11th International Joint Conference on Biomedical Engineering Systems and Technologies - BIOSTEC 2018
SCOPE
The workshop on Artificial Intelligence for Health - AI4Health 2018 - aims at bringing together researchers from academia, industry, government, and medical centers in order to present the state of the art and discuss the latest advances in the emerging area of the use of Artificial Intelligence and Soft Computing techniques in the fields of medicine, health care and wellbeing. AI4Health is expected to cover the whole range of theoretical and practical aspects, technologies and systems related to the application of artificial intelligence and soft computing methodologies to issues as machine learning, deep learning, knowledge discovery, decision support, regression, forecasting, optimization, and feature selection in the healthcare and wellbeing domain.


TOPICS:

The topics of interest include, but are not limited to, the application of artificial intelligence and soft computing methodologies to:

• Knowledge Management of Health Data;
• Data Mining and Knowledge Discovery in Healthcare;
• Machine and Deep learning approaches for Health Data;
• Decision Support Systems for Healthcare and wellbeing;
• Optimization for healthcare problems;
• Regression and forecasting for medical and/or biomedical signals;
• Health Care Information Systems;
• Wellness Information Systems;
• Medical Signal and Image Processing and Techniques;
• Medical Expert Systems;
• Diagnoses and Therapy Support Systems;
• Biomedical Applications;
• Applications of AI in Health Care and Wellbeing Systems;
• Machine Learning-based Medical Systems;
• Medical Data- and Knowledge Bases;
• Neural Networks in Medicine;
• Ambient Intelligence and Pervasive Computing in Medicine and Health Care.
IMPORTANT DATES
Paper Submission: November 14, 2017 (extended)
Authors Notification: November 21, 2017
Camera Ready and Registration: November 29, 2017
WORKSHOP PROGRAM COMMITTEE
Antoine Bagula, University of the Western Cape, South Africa
Stefano Cagnoni, University of Parma, Italy
Antonio Celesti, University of Messina, Italy
Carlos Cotta, Universidad de Malaga, Spain
Ivanoe De Falco, CNR - ICAR, Italy
Stefka Fidanova, Bulgarian Academy of Sciences, Bulgaria
Sebastian Fudickar, University of Oldenburg, Germany
Antonino Galletta, University of Messina, Italy
Nuno Garcia, University of Beira Interior, Portugal
Francesco Gargiulo, ICAR CNR, Italy
Saemundur Haraldsson, University of Stirling, United Kingdom
Mario Köppen, Kyushu Institute of Technology, Japan
Tomáš Koutny, University of West Bohemia, Czech Republic
Jolanta Mizera-Pietraszko, Wroclaw University of Technology, Poland
Pooya Moradian Zadeh, University of Windsor, Canada
André Pinho, University of Beira Interior, Portugal
Nuno Pombo, University of Beira Interior, Portugal
Seyedamin Pouriyeh, University of Georgia, United States
Giovanna Sannino, Institute for High-Performance Computing and Networking, Italy
José Santamaría López, University of Jaen, Spain
Stefano Silvestri, ICAR CNR, Italy
Jan Sliwa, Bern University of Applied Sciences, Switzerland
Berglind Smaradottir, University of Agder, Norway
Anastasia Theodouli, Aristotle University of Thessaloniki, Greece
Laura Verde, University of Naples Parthenope, Italy
Shuang Wang, University of California San Diego, United States
CO-CHAIRS
Angelo Cangelosi
University of Plymouth
United Kingdom
Brief Bio
Angelo Cangelosi is Professor of Artificial Intelligence and Cognition and the Director of the Centre for Robotics and Neural Systems at Plymouth University (UK). Cangelosi's main research expertise is on language grounding and embodiment in humanoid robots, developmental robotics, human-robot interaction, and on the application of neuromorphic systems for robot learning. He currently is the coordinator of the EU H2020 Marie Sklodowska-Curie European Industrial Doctorate "APRIL: Applications of Personal Robotics through Interaction and Learning". Cangelosi is Editor (with K. Dautenhahn) of the journal Interaction Studies, and in 2015 was Editor-in-Chief of IEEE Transactions on Autonomous Development. His latest book "Developmental Robotics: From Babies to Robots" (MIT Press; co-authored with Matt Schlesinger) was published in January 2015, and recently translated in Chinese and Japanese.
Ivanoe De Falco
CNR - ICAR
Italy
Brief Bio
Ivanoe De Falco received his Laurea degree in Electrical Engineering cum laude in 1987 at the University of Naples "Federico II.", and is currently a senior researcher at the Institute for High-Performance Computing and Networking (ICAR) of the National Research Council of Italy (CNR). His main research fields include computational intelligence and parallel computing. He serves as an Associate Editor for the Applied Soft Computing journal (Elsevier), is a member of the World Federation on Soft Computing (WFSC), has been part of the Organizing or Scientific Committees for tens of international conferences or workshops, and has authored or coauthored about 120 papers in international journals, books, and conference proceedings.
Giovanna Sannino
CNR - ICAR
Italy
Brief Bio
Giovanna Sannino received a master's degree in Telecommunications Engineering (Cum Laude) from the University of Naples Parthenope in April 2011 and a Ph.D. degree in Information Engineering at the University of Naples "Parthenope" in April 2015. In 2009 she earned a master degree, named "European Master on Critical Networked Systems", and a bachelor's degree in Computer Engineering in 2008 at the University of Naples Federico II. Currently, she is a researcher at Institute for High-Performance Computing and Networking (ICAR-CNR). Her research activities are focused in the area of mobile Health and Pervasive Computing. In addition, she is a IEEE 11073 Personal Health Device Working Group Member.
HONORARY CHAIR
Giuseppe De Pietro
ICAR-CNR
Italy
Brief Bio
is the director of ICAR-CNR. Current research interests are: pervasive and mobile computing, Clinical Decision Support Systems, Software architectures for e-health. He has been actively involved in many European and National projects, with industrial co-operations too. He is author of over 150 scientific papers published in international journals and conferences and he is involved in many program committees and journal editorial boards. He is Adjunct Professor in Temple University's College of Science and Technology, and IEEE and KES International Member.
Keynote Lecture

Anatole Lécuyer
Inria Rennes/IRISA, Hybrid Research Team
France
Brief Bio
Anatole Lécuyer is senior researcher and head of Hybrid team at Inria (Rennes, France), the French National Institute for Research in Computer Science and Control, that he joined in 2002. His main research interests are in the field of Virtual Reality, and more specifically on 3D User Interfaces, Haptic Feedback, 3D Visual Displays, and Brain-Computer Interfaces (BCI). He has been involved often as coordinator or principal investigator in various National or International research projects such as in OpenViBE software for Brain-Computer Interfaces, French ANR projects "OpenViBE1" (05-09) and "OpenViBE2" (09-12) on Brain-Computer Interfaces and Virtual reality, European Strep project "NIW" (08-11) on Augmented Walking, and the European Network of Excellence "INTUITION" (05-08) on Virtual Reality. He regularly serves as expert in Virtual Reality and BCI for public bodies such as European Commission (EC) or French National Research Agency (ANR). He is involved in program committees of major conferences of his field (IEEE VR, IEEE 3DUI, Eurohaptics, Eurographics, etc) and was notably program co-chair of IEEE VR 2015, and IEEE 3DUI 2013. He is an associate editor of Frontiers in Virtual Environments and Presence, and formerly of ACM Transactions on Applied Perception (ACM TAP) and International Journal of Human-Computer Studies (IJHCS).
--------------
AGENDA
-------------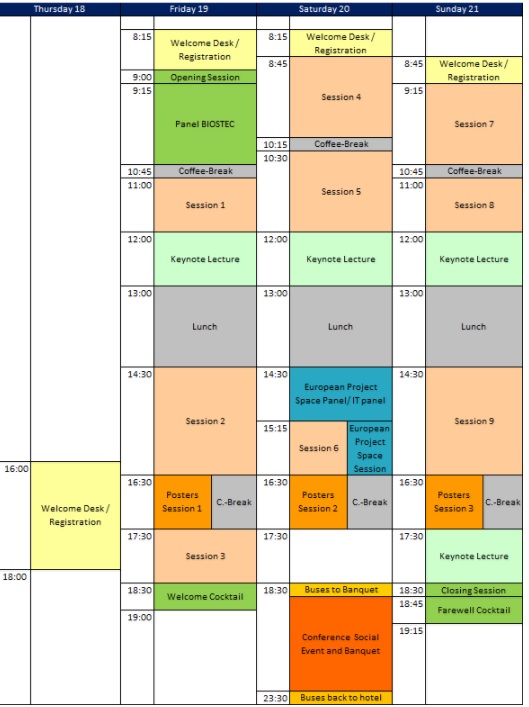 Please contact the event manager Marilyn (marilyn.b.turner(at)nyeventslist.com ) below for:
- Multiple participant discounts
- Price quotations or visa invitation letters
- Payment by alternate channels (PayPal, check, Western Union, wire transfers etc)
- Event sponsorships

NO REFUNDS ALLOWED ON REGISTRATIONS
Service fees included in this listing.
-----------------------------------------------------------------
This event is brought to you by:
INSTICC - NewYorkEventsList
http://www.NyEventsList.com
http://www.BostonEventsList.com
http://www.SFBayEventsList.com
-----------------------------------------------------------------

MYL171114EV MAR20171124REV JOA171219CEV
Keywords: fun, applications, architecture , architectures, Book , Clinical , communication , conference , development , Engineering
---
---
---
Comments
---
---